Ways To Wear Your Badge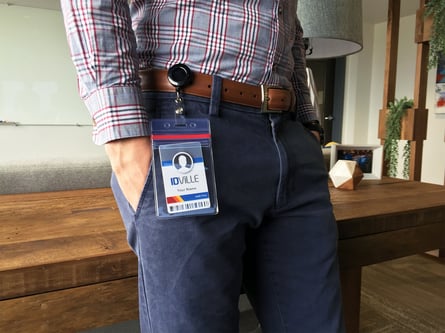 Just like grabbing your keys is second nature as you walk out the door, grabbing your ID badge should be the same. You may use it for identification, to clock in and out, to open a door, or all three. If you don't have it, you have a problem.
We offer a wide range of products to keep your ID badge close at hand, but not in your way. No matter what your personal style is, your badge's function, or how often you use it, IDville has an accessory for you. Because access to your ID badge should be easy – like grabbing your keys as you walk out the door.
WHICH ONE DO I WEAR?
You may wonder where to start. Think about the three Cs of badge wear: Comfort, Capacity, and Convenience. In other words: How will you wear it, how will you use it, and how often will you need it?
Browse the entire selection of ID badge wear, or click on exactly what you're looking for:
PERSONALIZED LANYARDS
Highly-visible lanyards work well for schools, conferences, department, volunteer recognition, or just about any time a large group needs to be quickly identified.
Add your company or school name and your logo or mascot to give it a truly personal touch. IDville also carries an assortment of
themed lanyards
to coordinate with your upcoming event's theme or school colors.
Attachments add versatility and function to lanyard wear. Use a split ring to carry keys or a bulldog clip to easily attach your badge. Clip your slot-punched ID badge with a metal j-hook. An additional feature, the safety breakaway, snaps the lanyard apart if you get it caught on something, a handy option in manufacturing and school environments.
Shop
recycled lanyards
made of soda bottles for ID badge wear you can feel good about. Use with recycled badge stock for earth-friendly identification.
Control access to your building every day by monitoring visitor traffic. Use a bold, pre-designed
visitor lanyard
to clearly identify who is authorized to be on-site or on school grounds.
The possibilities are endless, but we know your budget isn't, so we have several lanyard options at all different price points to choose from!
PROTECTIVE BADGE HOLDERS
Lanyards not your style? Badge holders protect your ID card and can create added storage for all your necessities.
The exclusive
IDGuard™
wraps around your ID badge without compromising scanning capabilities. With six different color options, coordinate it with your badge and badge reel for a polished look.
The
event wallet badge holder
is the perfect choice for conference goers. Keep your identification visible, and have extra room for takeaways, business cards, and cash. Easily clips to a lanyard for hands-free mobility as you walk the show floor.
Armband holders
come in vertical or horizontal presentations and are ideal for medical or security personnel. The adjustable strap fits any arm and keeps your credentials visible, but out of the way.
Need room for more cards? Use the
multi-card holder
to carry multiple cards in one, lightweight tension device. Load it, and use the plastic slot to attach a strap clip or a lanyard.
It can be as simple as a
clear vinyl badge holder
. Slip your ID in its protective case, clip it to your pocket, purse, or lanyard and you're on your way.
PRACTICAL BADGE REELS
If badge scanning is something you do every day to track time and attendance, a badge reel makes your life a whole lot easier.
Badge reels
can be decorative, but also extend up to 36" for proximity and time scanning and automatically retract back into a sturdy plastic casing. Use the back clip to keep your ID card accessible on a pocket or belt loop.
Send a message to your staff with a variety of themed
badge reels
. Assorted themes address safety and teamwork, or call an IDville specialist to customize a badge reel with your logo.
Heavy duty badge reels
withstand any environment, or choose a
carabiner clip
for attachment to just about anything – key ring, pocket, belt loop, or bag.
BUDGET-FRIENDLY CLIP ATTACHMENTS
It doesn't get any simpler than
strap clips
. A vinyl clip attaches to your ID, a metal clip attaches to you, and you're looking at ID wear as low as $.20 per piece!
To find the ID badge accessory solution that's right for you, call IDville's identification specialists at 1.866.438.4553 today!